Visiting Controller / Gastlotse
Welcome to RG Frankfurt!
You already hold at least the S3 rating (vACC Germany members) or the C1 rating (members of other vACC's) and would like to receive a guest endorsement for Frankfurt Airport (EDDF) or one of our center positions? Then you are welcome to send us your application as a visiting controller via the Vatsim Germany homepage.
Requirements

S3 rating (vACC Germany members) or C1 rating (members of other vACC's).

Members of RG Düsseldorf are not subject to this regulation and only need the S2 rating to request an introduction to EDDF provided they consider completing their APP training in Frankfurt


at least 4 weeks since your passed CPT
at least 25 hour on the exam position since CPT
Letter of recommendation from a vACC staff (members of other vACC's)
English language skills are mandatory
Knowledge of German is helpful, but not mandatory. VFR flights can be conducted in German language within our airspace.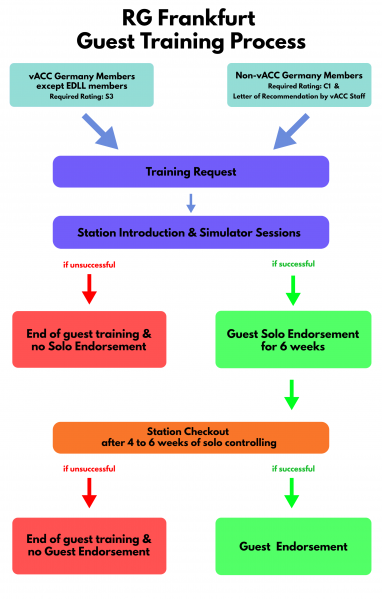 A training session for EDDF TWR is required before you can start controlling in Frankfurt. In addition, further training is then required for APP and CTR position. For approach training, a minimum of 10 hours as a controller at Frankfurt Tower is required (within 6 months). The same regulation applies to CTR positions. In this case, at least 10 hours on approach are required.
For our "minors" (EDDS, EDFH, EDFM, EDSB, EDTL, ...), you also need a short sim training or a short online training as a visiting controller from countries other than Germany. It is possible to combine TWR and APP directly in a single sim training or online training. This serves to ensure that you are familiar with the procedures within vACC Germany. However, if you have already successfully completed a station introduction in Frankfurt (EDDF), you will automatically receive an endorsement for our "minors".
If a visiting controller has not controlled within the RG Frankfurt for a period of 6 months, the endorsement will be withdrawn by a senior mentor or the RG director. Guest controller status may also be revoked by the ATC Training Department (ATD) head. To regain guest controller status, another training session will be required.
As we receive many requests, we ask for your understanding should we have to put you on a waiting list. This depends on the current workload of our mentor team.
We look forward to receiving your application!