Tower
The primary station is Tower South (EDDB_S_TWR). Tower North can be staffed as soon as Berlin Delivery is connected.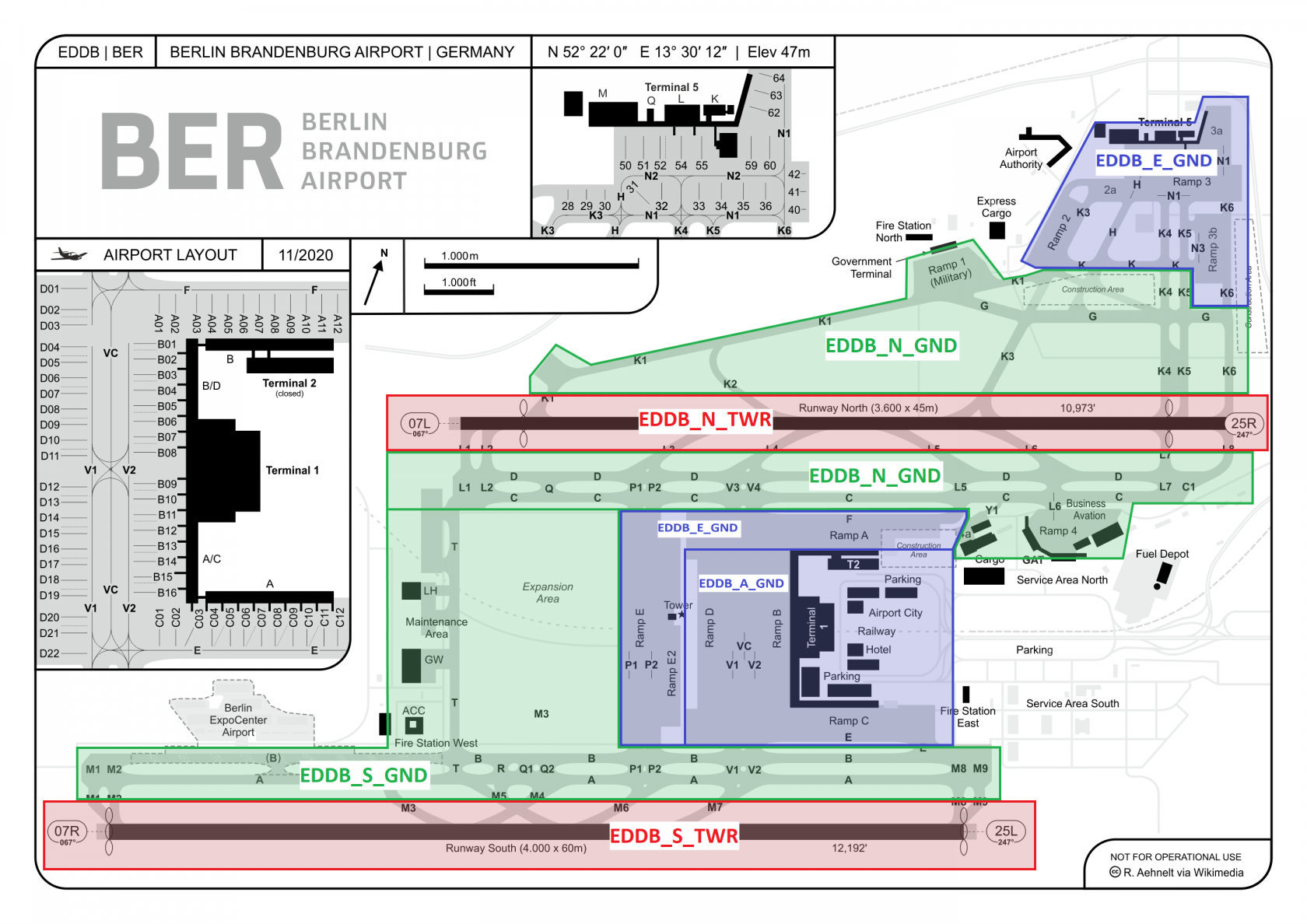 AoR Berlin-Brandenburg Airport
Procedures
CTR
Mandatory Reporting Points: November (North), Mike (South)
D(CTR) from GND to 2500 ft
Traffic circuits between both runways are not allowed
ED-R 4 and ED-R 146 north of the CTR
Many hospitals north of the CTR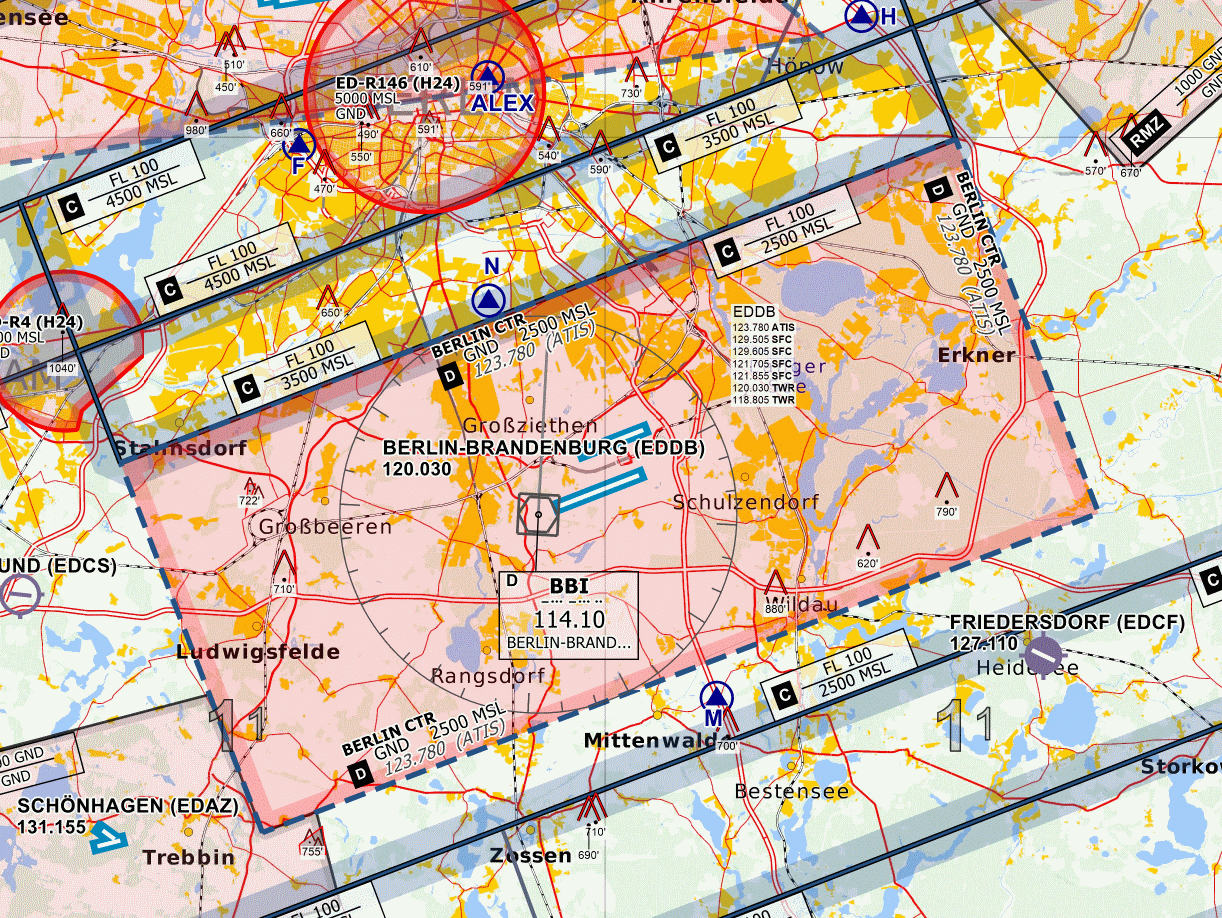 CTR Berlin - © openflightmaps.org
Departure Routes
Departures from both runways are always independent (no waiting or coordination required)
Parallel departures have to exactly stay on the published procedure
All departing aircraft are sent to Bremen Radar / Berlin Departure when airborne

Departures of runway 07L/25R to Departure North (DBDN) - 134.425
Departures of runway 07R/25L to Departure South (DBDS) - 120.625

Parallel departing aircraft are only independent as long as both stay on a published procedure (vectored / visual departures are not independent and therefore require coordination between both Tower)
Departure Separation
Same runway, different SID: min. 3 NM
Same runway, same SID: min. 5 NM
Same runway, different WTC: apply wake turbulence separation
Additional spacing:
Preceding on Z-SID, succeeding on Q-SID: 2 additional NM required
Preceding on K-SID, succeeding on B-SID: 2 additional NM required
Efficiency
Target arrival spacing in 5-6 NM at touchdown
Use spacing between arriving aircraft to depart aircraft waiting at the holding point
The usage of Reduced Runway Separation (when possible) is very helpful
Mode of Operations
Dependent Parallel Approaches: 3 NM diagonal separation to aircraft on the parallel runway
Independent Parallel Approaches: parallel approaches allowed

Independent Parallel Approaches Operations are only permitted when N_TWR

and

S_TWR are staffed, in addition, F_APP and D_APP need to be controlled by different controllers

More details here: EDDB/EDDP - Airport Betriebsmodus

Handoff to Ground
Aircraft will switch to Ground automatically once vacated

Information to the pilots via the ATIS mandatory

Support pilots who are not switching to Ground automatically
Visual Swingover
Only allowed during critical situations

Reduced diagonal separation
A reduced diagonal separation of at least 1,5 NM may be used during dependent parallel approaches.
Prior coordination of reduced separation is necessary

Pilots need to be informed via the ATIS (&pda)

Both aircraft have to be established

Reduced separation is only allowed between the threshold and 10 NM final
Use of Runways
Normal Ops:

Both runways are active for departing and arriving traffic
Dependent Parallel Ops (3 NM diagonal separation)

High Traffic Ops:

Both runways are active for departing and arriving traffic
Dependent Parallel Ops (1,5 NM diagonal separation)

Very High Traffic Ops:

Both runways are active for departing and arriving traffic

Independent Paralell Ops

Low Visibility Ops / Low Visibility Procedures:

Always to be used during LVP conditions
Departures via 25L, Arrivals via 25R
Departures via 07L, Arrivals via 07R

Adverse Weather Ops:

To be only used when many Go Arounds due to weather are expected (e.g. due to CB or strong wind)
Departures via 25L, Arrivals via 25R
Departures via 07L, Arrivals via 07R

Go Around
Handoff of Go Aorunds to Berlin Departure
Coordination with Berlin Departure necessary

VFR-Ops
VFR movements preferred via runway 25R/07L
Crossing of the airport as to be coordinated between both Tower controllers
Schönhagen
Stop of arriving aircraft via runway 25L, during RNP approach in EDAZ (Potential conflicts with Go Arounds on runway 25L)
Departures from runway 25L can depart as long as:

The pilot ensures a good rate of climb after departure (to be expected for all Jets/Turboprops)


Special procedures only apply during 25-Ops