Delivery
VFR traffic, in contrast to real procedures, does not have to request startup at Delivery, but can report ready for taxi directly to the ground control.
The IFR standard departure procedures from Cologne-Bonn lead to the waypoints NVO, WYP, COL, PODIP and KUMIK. The first altitude for departures is always 5000 ft MSL for all departure procedures.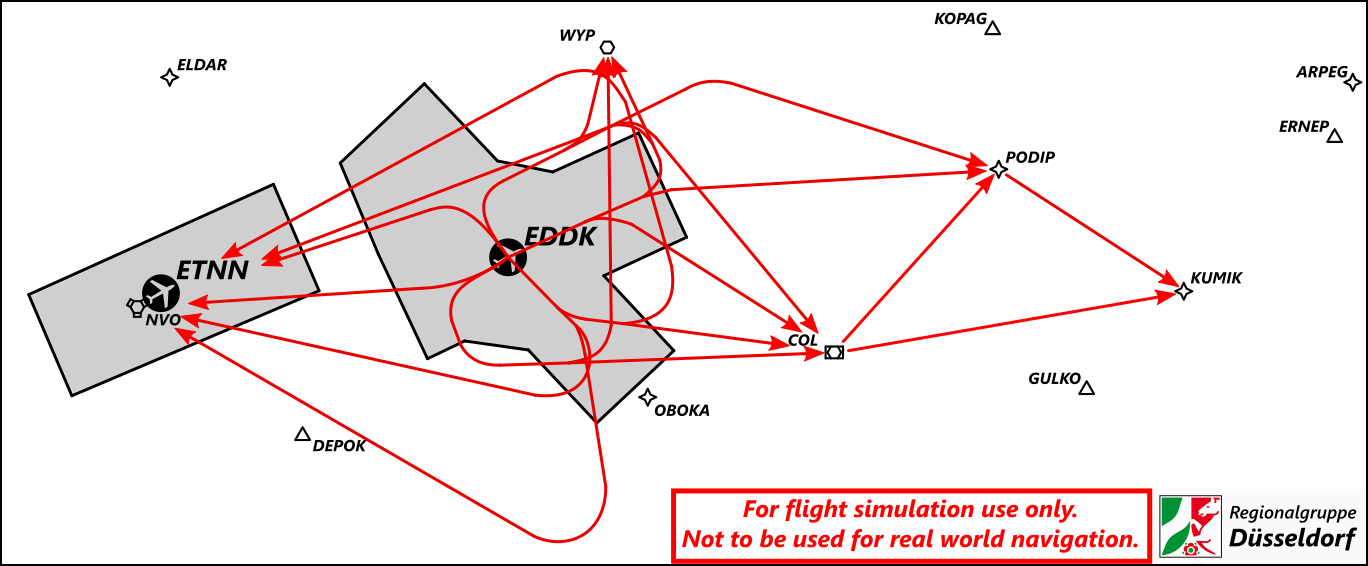 Departure Routes out of Köln/Bonn
Northbound departures via WYP will lead into the sector of Düsseldorf Arrival and must be coordinated with Köln Arrival before the enroute clearance is issued. Prior to take-off, Köln Tower will inform Köln Arrival, who will pass on the take-off information to the Düsseldorf Arrival controller.
Departure Routes
Generelle Einschränkungen:

The standard departure routes via COL are used on all runways only for local training flights around Cologne-Bonn or for flights to EDDF.
Startbahn 06, 24 un 32L:

Startbahn 14L:

Departure Routes with Designator F are prefered.
Designator X is only used for aircraft with WTC heavy amd 3 engines
Departures via NVO#P should be used for aircraft that are unable to fullfill the climb restrictions on NVO #F (need to be reported by the pilot).

NVO#W may only be assigned after coordination with the responsible arrival controller, as it crosses through approaching traffic. Appropriate flights must be announced to the approach controller by the tower before take-off.

Designator Q should be used for RNAV capable aircraft only!

Startbahn 14R:

Es sind bevorzugt die Standardrouten mit Designator E zuzuweisen.
Die Route NVO2C kann bei Flügen mit Luftfahrtzeugen der WTC Kategorie HEAVY genehmigt werden. Sie verläuft für einen Großteil über weniger dicht besiedeltes Gebiet und erleichtert die Kurve in Richtung NVO, da das Flugzeug davor an Höhe und Geschwindigkeit gewinnen kann.
Die Route NVO2V darf nur in Absprache mit dem zuständigen Anfluglotsen vergeben werden, da diese durch den anfliegenden Verkehr kreuzt. Entsprechende Flüge sind dem Anfluglotsen vor dem Start vom Tower anzukündigen.

Startbahn 32R:

Es sind bevorzugt die Standardrouten mit Designator B zuzuweisen.
Für Flugzeuge unter 98t MTOW (z.B. B737, A321) können C-Routen verwendet werden, die real aus Lärmschutzgründen Verwendung finden.
Abflüge über die Route NVO1R dürfen nur genehmigt werden, wenn sichergestellt ist, dass die RNAV-Route auch abgeflogen werden kann.
Vektorierte Abflüge
Ist ein Abflug über eine Standard-Abflugroute nicht möglich, kann mit der Anflugkontrolle ein vektorierter Abflug koordiniert werden.
Hierbei ist als Steuerkurs die Startbahnausrichtung und als erste Höhe 4000ft vorzugeben.
Systemseitig ist als SID ist im entsprechenden Datenblock des Flugzeugs einer der RVxxx Einträge auszuwählen. Die folgenden Einträge stehen zur Verfügung:
Bei einem vektorierten Abflug über WYP in den Luftraum von Düsseldorf die gelten die gleichen Regeln wie für Abflüge über die entsprechenden Standardrouten.