Holdings Hamburg Inbounds
Holdings offer the most efficient opportunity to deal with high traffic situations and relieve overloaded sectors especially approach sectors.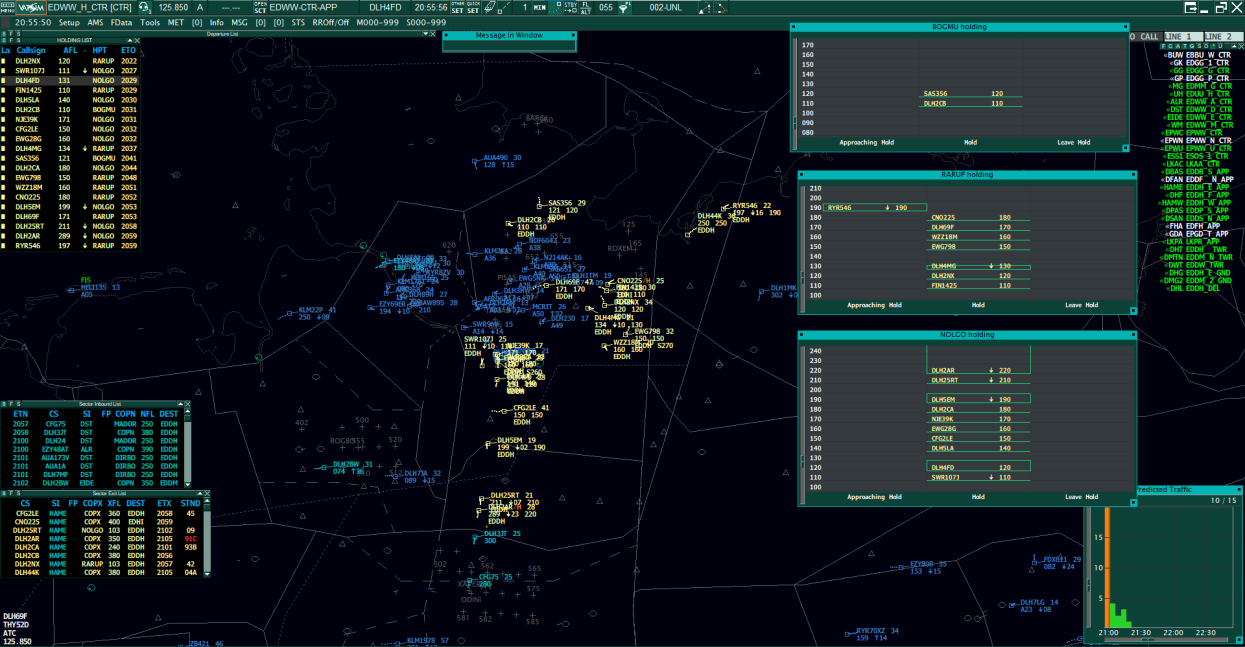 A typical thursday evening
The following procedures are the standard when building up holdings. Other methods have to be coordinated.
EDDH Holdings and STARs
Waypoint
23
15
05
33
Holding
RIBSO
P
D
A
S

028°

right turns

NOLGO
P
D / (W)
A
S

005°

left turns

RARUP
P
D
A
S

276°

right turns

BOGMU
P
D
A / (N)
S

229°

right turns
All holding information are included in the DFS-Pack. Just type .(Waypoint) for inbound course and turn direction of the published hold procedure.
Critical Areas
The holdings are mostly not conflicting with departing traffic. In some cases, you have to keep an eye on several situations
RARUP holding with departing traffic via RAMAR, when stack is high a climb gradient is low headings are recommended
RARUP holding has three traffic flows merging at RARUP. Level separation has to be established before reaching the hold.
NOLGO holdings with right turns instead of left are conflicting with departing traffic via AMLUH
BOGMU holding is feeded by two sectors EIDE and HEI from MICOS and ALS area. In normal operation HEI manages the BOGMU hold. EIDE should coordinate in a adequate time before reaching the hold
Coordination
Every station, especially sectors of the lower airspace and approach sectors can arrange the use of holds. Every arrival and center sector handling holdings must be informed. When holdings are requested, holdings have to be established at every waypoint to guarantee similar delays. It is unfair to the pilots that other routings e.g. via RIBSO have a pseudo prioritization because they do not need to hold. Furthermore, with not holding every aircraft the traffic flow gets less plannable.
When a coordinator is online it is strongly recommended ALR and HEI share their scope so the coordinator can see the holding management lists.
Topsky
Topsky offers several tools to make the work as an vATC easier. To work with the Topsky Holding lists you have to make a right click on the Callsign and click on Hold. Another window appears in which you can select the waypoint where the aircraft has to hold. Then a holding list appears. By clicking on a waypoint in the holding management list you can open a graphical overview of the holding stack. You can also use the S-Highlight to highlight the callsign and level of every aircraft within the hold.

Please do not forget to click XHold when the aircraft is cleared to leave the hold. This function can be found the same way as to select the holding. Otherwise on the next station's EuroScope instance a holding list will pop up.
We strongly recommend sorting your holding list with the ETO so the aircraft with the longest delay is the top item.
Releasing traffic from the holds
For the standard runway configuration 23ARR/33DEP it is recommended to delegate arriving traffic via BOGMU from HAME to HAMW so every sector handles one downwind.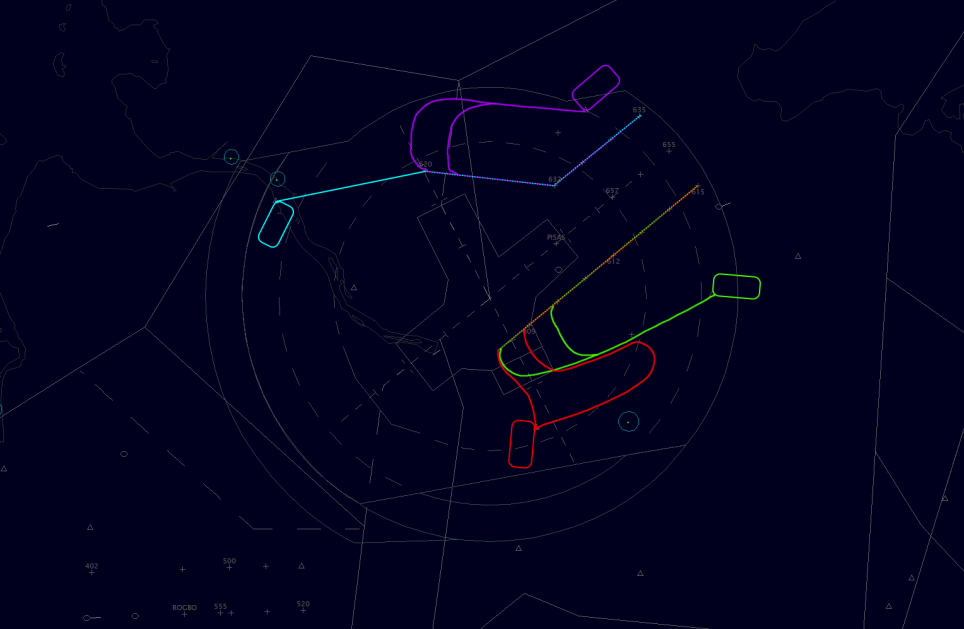 There are several oprions to release the holds
In general, the receiving sector determines when an aircraft can be released. The center controllers have to release the aircraft with the "oldest" ETO. The aim of every controller is a similar delay for every aircraft. By doing so it can be necessary one downwind has to feeded with 5nm instead of 10-12nm. The most flexible way to release holdings are headings, the use of STARs is still possible but can lead into irregular spacings. The picture shows possible traffic flows archived with headings.
When holding traffic, frequent and concise coordination is indispensable. Examples for coordination:
"I take DLH016 heading 230, descending FL100."
"Give me EWG9MA left turn heading 360"
"EZY998 next time inbound NOLGO left heading 340."