Parking Positions
Parking
There are three main parts of the apron, Terminal 1, Terminal 2 and the Cargo area.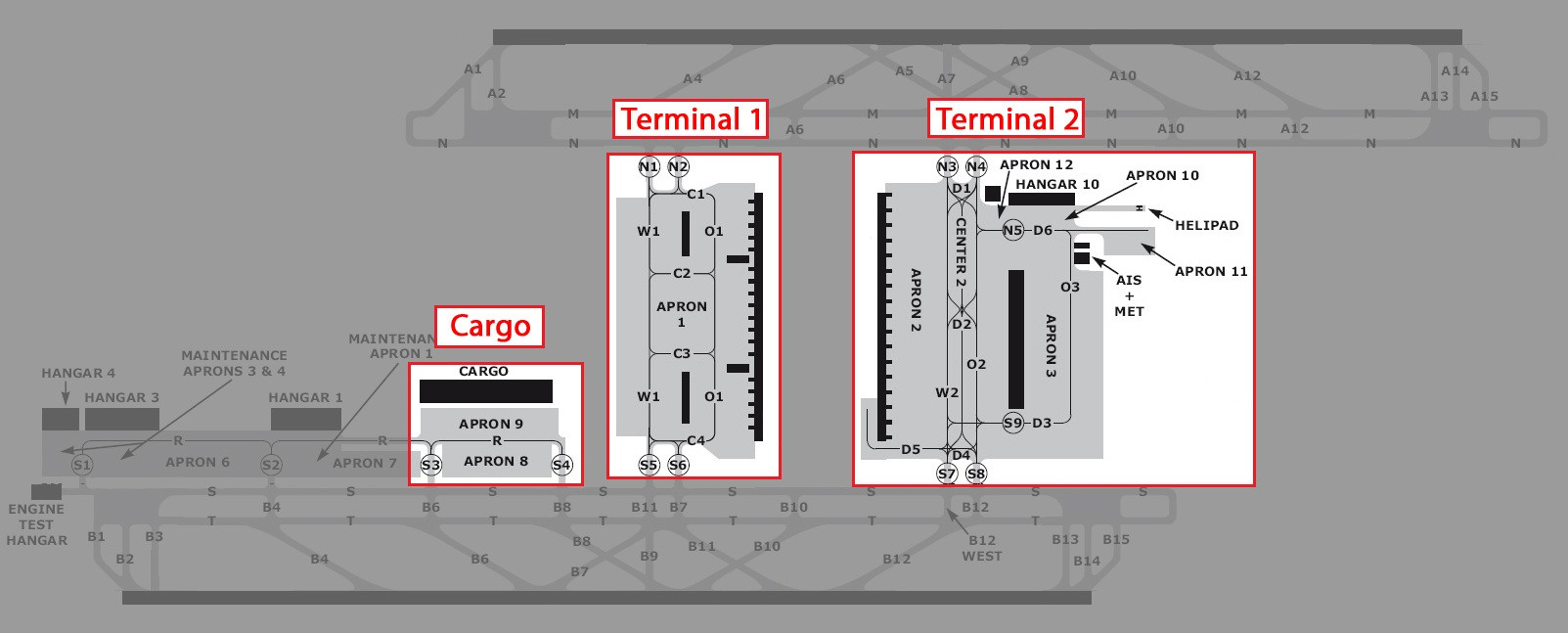 Terminal 1
Terminal 1 is used for all airlines not part of the Star Alliance. The northern part of Terminal 1 is under constructions. Stands 101-109 should not be used and will not be assigned by Apron.
Stands 118-121 are used for all flights with increased security demands, regardless of the operator (e.g. state flights).
Terminal 2
Terminal 2 and the remote stands at and around Apron 3 are being used exclusively by Lufthansa and Star Alliance as well as other Lufthansa partner airlines. Most Lufthansa and Star Alliance wide-body aircraft are parked directly at the terminal, whereas medium-sized planes like the A320 are intermixed with the wide-bodies or parked at stands 243-256 at the satellite terminal.
Cargo
Our cargo terminal is located to the south. The parking positions available are 901-907, with all of them being usable by wide-body aircraft. Usually to prevent long taxi times all cargo traffic should expect to depart from runway 08R/26L.
General Aviation
Parking for General Aviation is located on apron 13 (positions G11-G26) or on aprons 7 and 8 (positions 701-703, 801-905).
Airline Overview
Expand the section below for a list of airlines and the terminal they are parking at:
Airline Terminals

| ICAO | Name | Terminal |
| --- | --- | --- |
| ACA | Air Canada | 2 |
| ADH | Air One | 1 |
| ADR | Adria Airways | 2 |
| AEA | Air Europa | 2 |
| AFL | Aeroflot Russian Airlines | 1 |
| AFR | Air France | 1 |
| AIZ | Arkia Israel Airlines | 1 |
| AMC | Air Malta | 2 |
| ANA | All Nippon Airways | 2 |
| AUA | Austrian Airlines | 2 |
| AWE | US Airways | 1 |
| AZA | Alitalia | 1 |
| BAL | Belle Air Europe | 1 |
| BAW | British Airways | 1 |
| BER | Air Berlin | 1 |
| BGM | Bugulma Air Enterprise | 1 |
| BTI | Air Baltic | 1 |
| CCA | Air China | 2 |
| CFG | Condor Flugdienst | 1 |
| CTN | Croatia Airlines | 2 |
| CYP | Cyprus Airways | 1 |
| DAL | Delta Air Lines | 1 |
| DLA | Air Dolomiti | 2 |
| DLH | Deutsche Lufthansa | 2 |
| EIN | Aer Lingus | 1 |
| ELY | El Al Israel Airlines | 1 |
| ETD | Etihad Airways | 1 |
| EZY | easyJet | 1 |
| FHY | Free Bird Airlines | 1 |
| FIN | Finnair | 1 |
| GMI | Germania | 1 |
| GWI | Germanwings | 1 |
| HAY | Hamburg Airways | 1 |
| IBE | Iberia Airlines | 1 |
| ICE | Icelandair | 1 |
| ISR | Israir | 1 |
| KLM | KLM Royal Dutch Airlines | 1 |
| KRP | Carpatair | 1 |
| LBT | Nouvel Air Tunisie | 1 |
| LGL | Luxair | 2 |
| LOT | LOT Polish Airlines | 2 |
| LOW | Air Lowland | 1 |
| MON | Monarch Airlines | 1 |
| MSR | Egyptair | 2 |
| NAX | Norwegian Air Shuttle | 1 |
| NLY | Niki | 1 |
| OHY | Onur Air | 1 |
| OLT | Ostfriesische Lufttransport | 1 |
| OMA | Oman Air | 2 |
| PGT | Pegasus Airlines | 1 |
| POT | Polet | 1 |
| QTR | Qatar Airways | 1 |
| RAM | Royal Air Maroc | 1 |
| RJA | Royal Jordanian | 1 |
| ROT | Tarom | 1 |
| SAA | South African Airways | 2 |
| SAS | Scandinavian Airlines | 2 |
| SAT | SATA Air Acores | 1 |
| SBI | S7 Airlines | 1 |
| SDM | Rossiya | 1 |
| SHY | SkyLine | 1 |
| SIA | Singapore Airlines | 2 |
| SWR | Swiss International Air Lines | 2 |
| SXD | SunExpress Germany | 1 |
| SXS | SunExpress | 1 |
| SYL | Aircompany Yakutia | 1 |
| TAP | TAP Portugal | 2 |
| TAR | Tunisair | 1 |
| THA | Thai Airways International | 2 |
| THY | Turkish Airlines | 1 |
| TUI | Tuninter | 1 |
| UAE | Emirates Airline | 1 |
| UAL | United Airlines | 2 |
| UTA | UTair Aviation | 1 |
| VLG | Vueling Airlines | 1 |
| VOE | Volotea | 1 |