VFR Traffic
Departing Traffic
Departing VFR traffic on the ground at Berlin/Brandenburg shall do the initial call on Delivery EDDB_DEL (121.600).
If Delivery is offline, first contact should be with Berlin Apron even if he is not responsible for the GAT.
Arriving Traffic

Arriving traffic is supposed to contact TWR 15 miles prior to reaching the reporting point on which you desire to enter.
The main tower frequency is 118.800 which shall always be used by traffic arriving via reporting point M.
Traffic entering the control zone via reporting point N should call tower on 120.025 if he's online, otherwise call 118.800 as well.
There might be departing or arriving traffic on the parallel runway. Expedite all movements on the runway and approach to stay clear of IFR traffic.
Airspace

Please stay clear of any airspace C around Berlin
Check the ATIS to get information about the active runway. This is important to note as some airspace C sectors are only open during a specific runway configuration.
Stay clear of restricted airspace ED-R4 and ED-R146 at all times!
Reporting Points
Reporting Point N is located at Britzer Garten, a park with a small lake at the southern end of the city of Berlin.
Reporting Point M is located at the highway exit Mittenwalde, between the cities of Mittenwalde and Zeesen.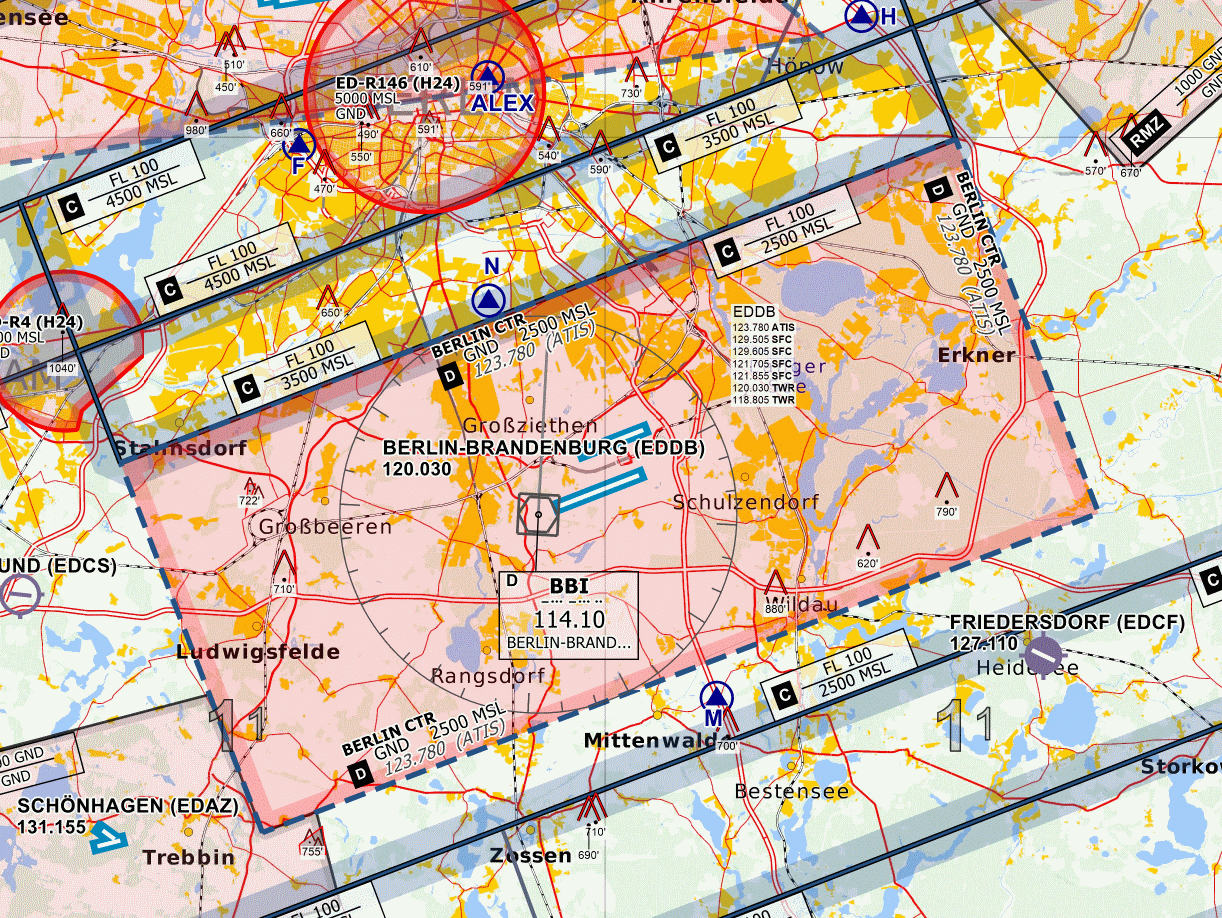 Control Zone Berlin/Brandenburg Airport - © openflightmaps.org
---
Abfliegender Verkehr
Abfliegender Verkehr hat den Einleitungsruf auf der Delivery Frequenz zu halten (EDDB_DEL - 121.600).
Sollte Berlin Delivery offline sein, ist Berlin Apron die nächste zuständige Station für den Einleitungsruf (gemäß des Top-Down Prinzips).
Anfliegender Verkehr

Anfliegender Verkehr hat sich spätestens 15 Meilen (alternativ 5 Minuten) vor Erreichen des Pflichtmeldepunkts zu melden.
Flugzeuge, welche einen Einflug über M beabsichtigen, rufen Berlin Turm auf der Frequenz 118.800 (EDDB_S_TWR).
Flugzeuge, welche einen Einflug über N beabsichtigen, rufen Berlin Turm auf der Frequenz 120.025 (EDDB_N_TWR). Sollte niemand auf die Frequenz erreichbar sein, ist die 118.800 zu rufen.
Alle Bewegungen auf der Piste und im Anflug sollen sicher so schnell wie möglich ausgeführt werden, um den anfliegenden IFR Verkehr nicht zu blockieren.
Luftraum

Der Luftraum C ist ohne Freigabe stets zu meiden. Die Benutzung der Luftraum Sektoren "C(HX) Berlin Ost/West" ist der aktiven Betriebsrichtung in EDDB zu entnehmen, welche über die ATIS mitgeteilt wird.
Die ED-R4 und ED-R146 ist in jedem Fall zu meiden!
Pflichtmeldepunkte

Der Pflichtmeldepunkt N liegt über dem Britzer Garten, ein Park mit See südlich von Berlin.
Der Pflichtmeldepunkt M liegt bei der Autobahnabfahrt Mittenwalde, zwischen den Orten Mitenwalde und Zeesen.