Departing Traffic
Start-Up and Enroute (IFR) Clearance
In Germany you have to request "start-up and enroute clearance" to get your IFR clearance. This does not include the pushback, therefore a separate approval is required! ("Lufthansa 12FU, Information A, request start-up and enroute clearance.")
| | | | |
| --- | --- | --- | --- |
| Waypoint | RWY 25C | RWY 18 | RWY 07C |
| ANEKI | - | L | - |
| CINDY | - | S | - |
| KOMIB | - | - | D |
| OBOKA | M / G | - | E / D |
| MARUN | M / F | - | E / D |
| SOBRA | - | L | - |
| SULUS | - | S | D |
| TOBAK | M / F | - | D |
| ULKIG | - | L | - |
Always check the current ATIS first!
Only request start-up when you are ready for pushback within the next 5 minutes. You can request the enroute clearance before.
Departure Runway will be assigned by Delivery according to the table at the right (for more details and the initial climb see latest charts!).
If your first waypoint is not listed, you should check your Route or AIRAC Cycle.
Report on Initial Call if unable for Runway 18 due to tailwind (if more than 10kt).
Valid routes out of Frankfurt are available via grd.aero-nav.com.
Do not start die engines at the gate if a pushback is required, even if the startup is already approved!
NOTE: The Controller may change your planned departure route due to operational reasons.
Enroute Clearance also available via Datalink (PDC/DCL via Hoppie ACARS System), you need to call Delivery for startup thereafter! Example below.
CLD 1459 220307 EDDF PDC 004 SAS461L CLRD TO EKCH OFF 25C VIA MARUN7M CLIMB FL070 SQUAWK 2037 ADT MDI NEXT FREQ 121.900 ATIS H REQ STARTUP ON 121.900
Especially during events this procedure is prefered for the enroute clearance. If you don't have an aircraft with integrated CPDLC/PDC function you can use the external software easyCPDLC.
VFR Traffic has to contact Delivery for departure information!
Pushback
Only ask for Pushback if you are able to start pushback immediately when receiving pushback approval! Below you will find a tutorial how to prepare the most common pushback tools and use it the most efficient way. It might be possible that ATC will instruct you to do a specific routing for pushback (into a specific taxiway, a blue or orange line, push and then pull foreward, etc.). Always report when unable or if you do not understand the instruction!
Set your Squawk and turn on your Transponder before offblock.
Positions V134 - V178, A1, B10 and C2 are taxi-out positions, no pushback required.
For positions V106 - V118 (even) a straight pushback (facing north) can be used. (see image below)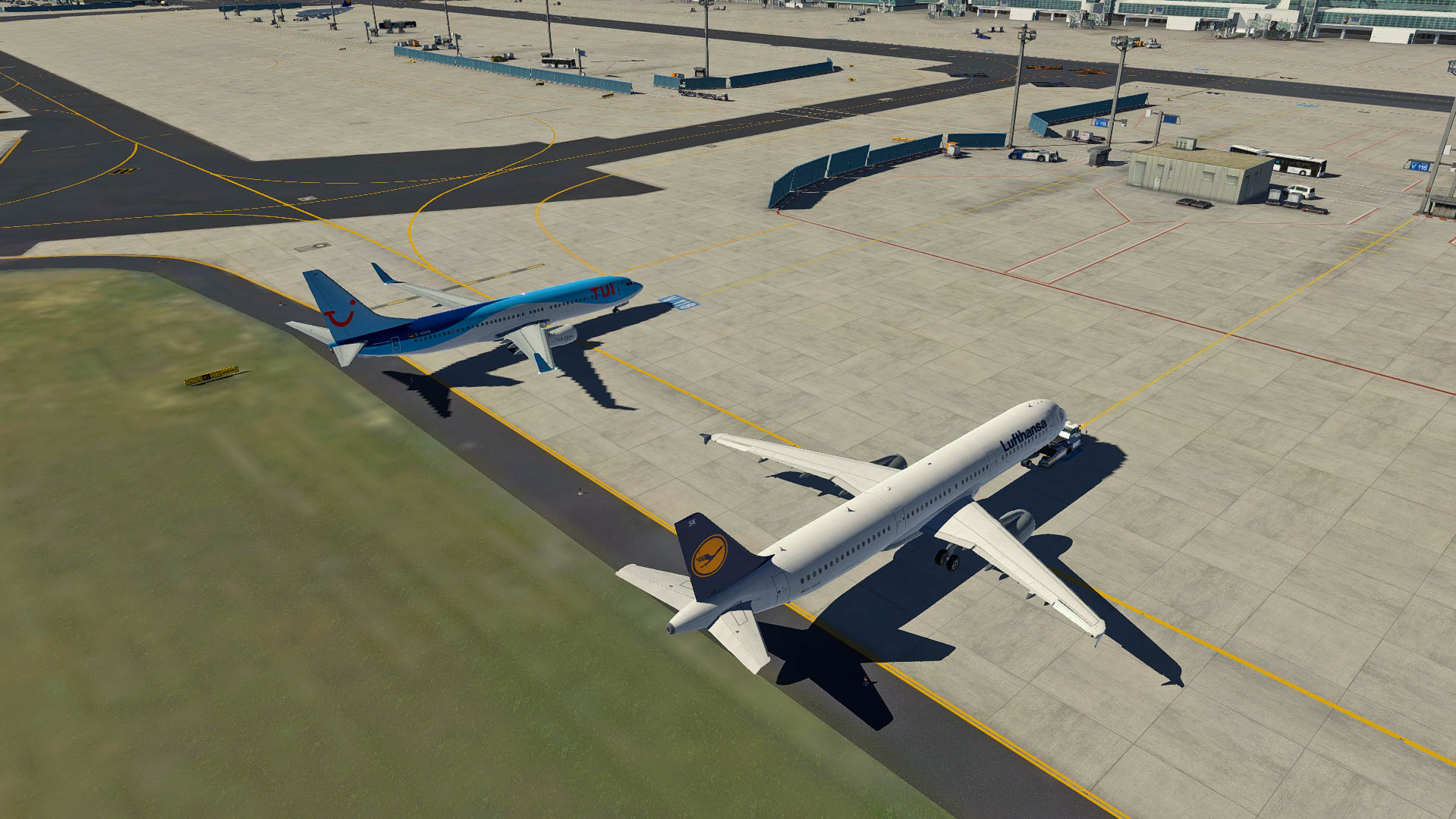 Straight pushback at positions V106 - V118 without turn facing north

S-Intersection Runway 18: For medium departures out of RWY 18, parked on any D, E or V stand (requiring a pushback), please advise on the pushback request if you are unable for intersection S. Takeoff Runway Available (TORA) from S is 2735m (sufficient for most medium aircraft). Even though the taxi route to S is slightly longer than to the "normal" holding points there are less intersecting taxiways and dependencies which can often expedite your takeoff clearance! Refere to Transition 1 for detailed routing.
Tower
Transition 1:
Outbound traffic from the East Apron departing via RWY 18 out of intersection S will be handed to Tower short of stopbar U2. You will get your further routing by Tower. Most of the time this will be via U - S - S11 - R - S28 - S. Make sure you have the clearance to cross stopbars U2 and U6 by ATC!
After Stopbar U2 you can expect further routing via Transition 1: U - S - S11 - R - S28 - S

You can find Transition 1 at your charts only at the written airport briefing (Jeppesen) or the AIP of Frankfurt (chartfox.org).

Intersection Departure:
To optimize the traffic flow expect intersection departures out of RWY 25C/07C. Report earliest available intersection to Apron/Tower during or before taxi.
Departure
Departure frequency will be issued by Tower when airborne.

South Departures (RWY 18 + SULUS, KOMIB) can expect 136.125 as Departure Frequency and North Departures (RWY 07C/25C) 120.150. When advised switch to these frequencies even if not displayed in vPilot/xPilot!
Use ICAO Noise Abatement Departure Procedure 2. Accelerate to flap retraction speed at 1000AGL (~1400ft on your altimeter).

Do not climb above your initial climb until advised by ATC! You will receive your initial climb with your startup clearance and you can find it on the departure charts (written part) as well.

There is no 250KTS/FL100 speed limit in EDDF. Unless speed restricted by your SID or ATC you can accelerate to your final climb speed immediately after flap retraction. Note that most SIDs have a speed limit for the first turn which always has to be adhered to, unless cleared otherwise by ATC.