Delivery
Frankfurt Delivery is responsible for enroute and startup clearances for all departing IFR aircraft. VFR aircraft have to call Delivery for departure information. For all departures (IFR and VFR) Frankfurt Delivery is the first station to contact.
Startup: When startup clearance cannot be given immediately or the pilot is not ready for startup within the next 5 minutes during high traffic situations, the pilot needs to stay on Delivery frequency until he receives startup clearance. If an expected startup time (TSAT) exists, the pilot should be informed about it. This procedure might be necessary during events with a lot of outbound traffic.
With startup Delivery transfers the aircraft to the responsible Apron station depending on the current stand.
Mind the different initial climbs for the different SIDs and runways!
Euroscope: Delivery shall ensure that the initial climb is set and the correct SID is coded into the flightplan (very important for Center!). When issuing startup the corresponding ground state "SUG" (Startup Given) and the clearance received flag need to be set.
Events: For events Delivery has a very important role regarding the efficient traffic flow at the airport and runways. Check the usage of slots as well as the Event Coordinator article for more information. During events startup should only be issued when the outbound is ready for pushback within the next 5 minutes. Otherwise clearance can already be given and the pilot needs to report ready for startup on Delivery frequency.
SID Assignment
The runway used for departure and the corresponding SID are based on the first waypoint of a flight plan. Outbounds to the north will always use runway 25C/07C. Departures to the east, south and west will get runway 18 for departure. There is only one exception of that during 07 operations, where outbounds to the east will also use runway 07C.
South Apron: Aircraft parked in the southern part of the airport can be told to prepare both runways (25C/07C and 07R/25L), final decision will be by Tower later on during taxi depending on inbound traffic. This should be noted in the remark section (e.g. "25C/25L"). During low traffic situation, runway 25L/07R can be issued directly.

The default SID designator for each runway and waypoint can be seen in the table below.
| | | | |
| --- | --- | --- | --- |
| Waypoint | RWY 25C | RWY 18 | RWY 07C |
| ANEKI | - | L | - |
| CINDY | - | S | - |
| KOMIB | - | - | D |
| OBOKA | M / G | - | E / D |
| MARUN | M / F | - | E / D |
| SOBRA | - | L | - |
| SULUS | - | S | D |
| TOBAK | M / F | - | D |
| ULKIG | - | L | - |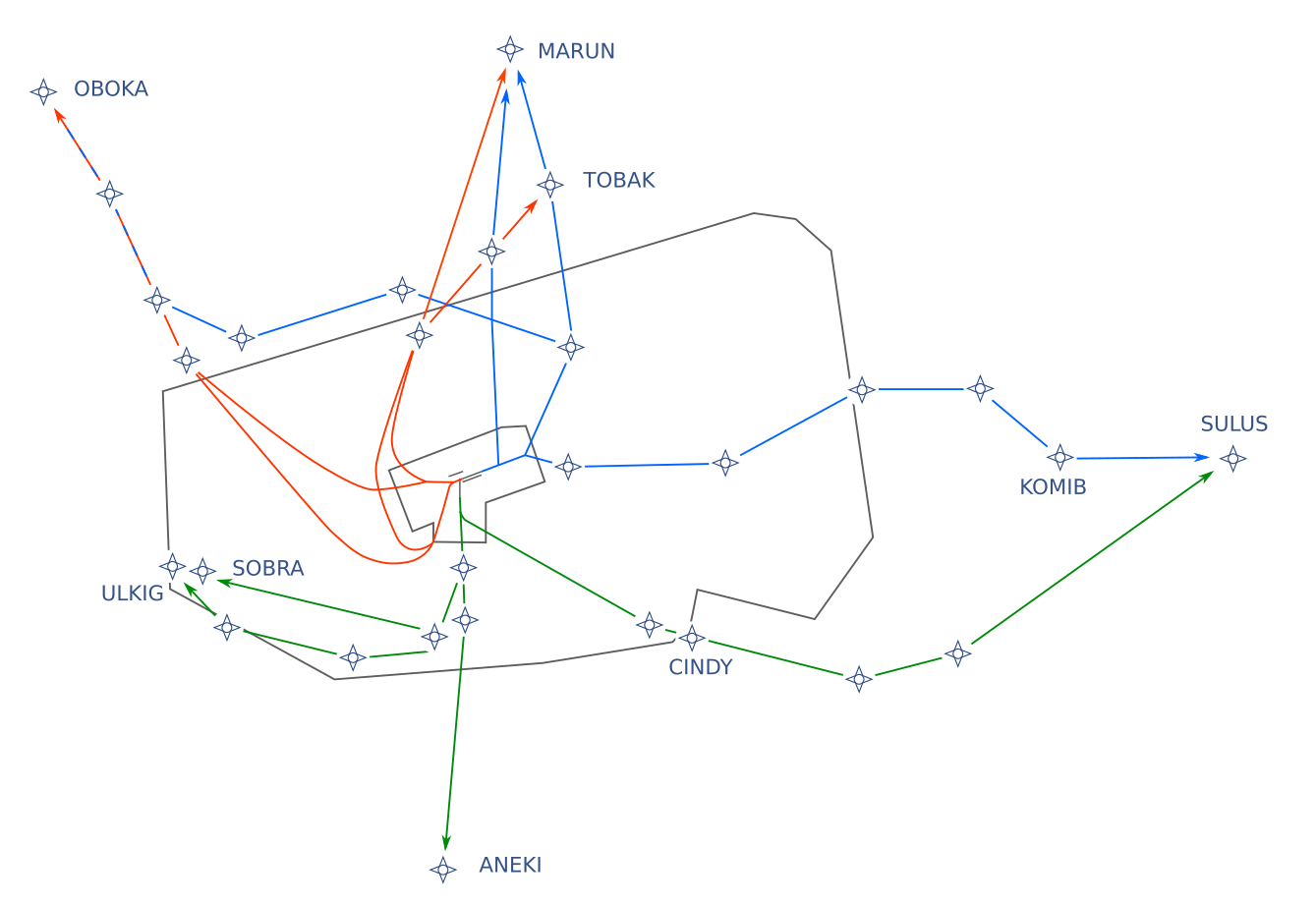 Location of waypoints that are available for flights out of Frankfurt
For a quick overview the Quicksheet for EDDF includes all assignment rules.
The Quicksheet includes all useful SIDs outbound EDDF, with the ones for standard operation set in bold font. For deviation from these rules, coordination between Delivery and the Tower controllers is required, as he is responsible for the departure sequences. Be advised that non-standard SIDs can create dependencies to other arrivals and departures. Departures in brackets can be cleared without prior coordination when filed or requested by a pilot.
Especially during high workload for TWR and APP default SIDs have to be used. If necessary the pilot's filed route has to be amended by Delivery (often a complete new route is required).
Departure Routes
Runway 25C/25L
M/H-Departures: Runway 25C/25L is primarily used for northbound flights. All Light and Medium as well as Heavy aircraft with 3 or 4 engines are always assigned the M/H-Departures (so called "Südumfliegung") by default. After departure they lead with a left turn towards the south before turning to the north. If these aircraft types are not able to fly this departure route (e.g. they cannot comply with the climb restriction), they need to use the F and G-Departures.
F/G-Departures: Heavies with 2 engines (including B757) will get a departure route with Designator F/G and turn directly north after take-off (deviations due to weather possible). Departures towards the south that use runway 25C/25L will also use Designator F.
W/K and N/P-Departures: W and K departures are only available for aircraft with special equipment (RNP + fixed radius) and should be used by request only. Night Departures with Designator N are available for all 3- and 4-engined Heavy and Super aircraft between 2200-0700LT. Single- and Twin-Props may use Designator P to SOBRA instead of runway 18.
Low Visibility Operations: During LVO all departing traffic that is able to fullfill the climb restriction (including two engined heavies) out of runway 25C/25L should get the M/H SIDs due to restrictions with approaching traffic.
Runway 07C/07R
E/D-Departures: Runway 07C/07R is used for north- and eastbound flights. Light and Medium aircraft are assigned a departure with Designator E, if available. Heavy and Super aircraft (including B757) are assigned a departure with Designator D.
Between 2200-0700 LT all flights towards the north and east should get Designator D due to noise abatement.
SULUS-Departures: During 07 operations departures to the east (SULUS, KOMIB) are sent only via runway 07C/07R and not via runway 18.
X/Y-Departures: Designator X and Y are only available for departures to the south and west and for aircraft with special equipment (RNP + fixed radius). They should not be used.
Runway 18
In standard configuration runway 18 is used for outbound flights to the south, west and east. SIDs with Designator S and L should be used according to the table above. S is always the shorter routing, while L is the one used if someone cannot comply with the restrictions on the S route. SIDs with designator A, U, R and T should not be used. During 07 operations runway 18 is not used for flights to the east.
Datalink Clearance (PDC/DCL)
At Frankfurt Airport we offer Datalink Clearance to the pilots throughout the Hoppie System and the Topsky Plugin. The airport code EDDF should be used (already preselected).
An example of the DCL message the pilot will receive can be seen below. It's important that the current ATIS Designator will be entered via the remarks. By default startup always needs to be approved seperately.
CLD 2042 220117 EDDF PDC 026 SAS461L CLRD TO EKCH OFF 25C VIA MARUN7M CLIMB FL070 SQUAWK 2037 ADT MDI NEXT FREQ 121.900 ATIS H REQUEST STARTUP ON 121.900
Additional Information
Old SIDs
Over time several SIDs have been replaced. New controllers might not know the old ones that a pilot with an older AIRAC cycle could have in his database. If someone only has an outdated AIRAC cycle, the old SIDs could be used instead of a vectored departure. You will find the current equivalents in the table below.
| Old Waypoint | Current Waypoint | Route to use in case of old AIRAC |
| --- | --- | --- |
| BIBTI | OBOKA | BIBTI #M/#G or #E/#D SID |
| DKB | CINDY | DKB #S SID for CINDY Z74 HAREM T104 DKB |
| NOMBO | CINDY | NOMBO #S SID for CINDY Z74 LAMPU DCT NOMBO |
| RATIM | CINDY | RATIM #S SID for CINDY L603 RATIM (Prop only) |
| ROTEN | CINDY | ROTEN #S SID - ROTEN #T STAR (DEST EDDN only) |
| AKONI | CINDY | AKONI #S SID for CINDY SID |
SID Restrictions
Due to a lot of different route planning tools, some non valid routes out of Frankfurt exist. To ensure an efficient operation within the upper and lower airspace several restrictions should be met if workload permits. To solve the issue, usually a completely new route has to be filed! Therefore grd.aero-nav.com can be used. All restrictions can be found in the table below.
| | | |
| --- | --- | --- |
| Waypoint | Restriction | Remark |
| ANEKI | not for DEST EDDM + EDMM FIR | reroute via CINDY |
| CINDY | via CINDY [...] T104 [...] DEST EDDM, EDDN only | reroute for other DEST required |
| CINDY | via CINDY L603 [...] Prop only, max. FL230 | reroute for non prop |
| KOMIB | only DEST EDDN during 07 operations | reroute via CINDY for 25 operations |
| TOBAK | not via TOBAK Z10 [...] | reroute via MARUN |
| MTR / TAU / RID | NON-RNAV only, max. FL90 | reroute for RNAV capable aircraft (e.g. A320, B738) |